Positions Available
Abounding Grace Lutheran (ELCA)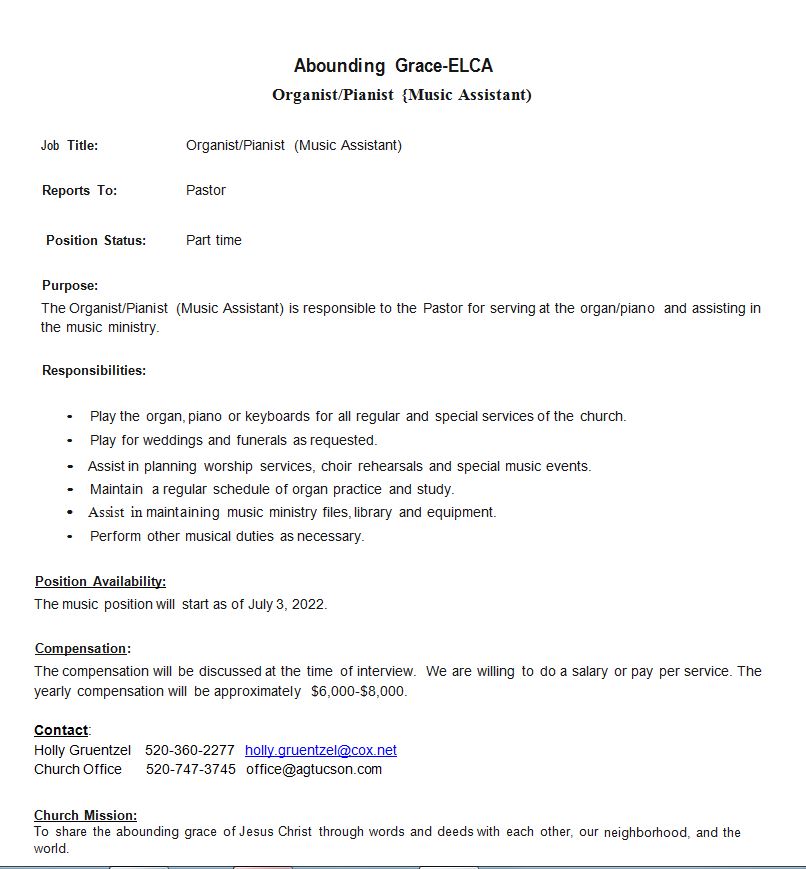 Pinnacle Presbyterian Church
Scottsdale, Arizona
Associate Director of Music and Arts
Check the link below for more information.
https://www.pinnaclepres.org/employment?
Third Church of Christ, Scientist
Full-time organist needed

One service on Wednesday night from 7:00-8:00 pm, and the Sunday service is from 9:30-10:30am.

Both of the services are for one hour. Pay is $90 per service Organ is a three manual Allen, 1992 vintage (I believe the model number is MS-65)

Contact information:

Third Church of Christ, Scientist

7355 N. Paseo del Norte

Tucson, AZ 85704

Contact "Cornelia": clerk@cs3tucson.org or call: (520) 297-6779
================================================================
St. Stephen's Episcopal Church
St. Stephen Episcopal Church in Sierra Vista is seeking a new Music Director.
The pipe organ is a 6 rank David McDowell installed in1970, and rebuilt by Michael O'Sullivan in 2008. We had an organ crawl in Sierra Vista and Bisbee awhile back and this was one of the places we visited.
The church is located at:
2750 Cardinal Drive – Sierra Vista, AZ 85635
Applications/resumes should be sent to their Rector, Rev. Allison Cornell. Her email address is on the attached PDF.
[Page updated: 0526-2022-1450