Positions Available
Saint Michael and All Angels Church

602 N. Wilmot Road, Tucson AZ 85711
Contact: Br. David Benedict Hedges, BSG
(520) 886-7292 rector@stmichael.net

Job Description: Director of Music
Reports to: Rector
Effective: Immediately
Status: Part-Time (Approximately 20 hours weekly)
FLSA: exempt (salaried)
Probation period: 90 days
Performance review: annual
Job Summary
The Director of Music will provide instrumental music and lead choral music to empower worshipers
at St. Michael's to give praise and glory to God through singing and hearing the Church's music.
Essential Functions
Plays the organ for the 7:45 am Low Mass and 10:30 am Solemn Mass on Sundays, and non-Sunday
Feast Day Masses including Christmas Ash Wednesday, Holy Week, and various Feasts of Our Lord
Jesus Christ.
Plays the organ for weddings and funerals as arranged by the Rector, with separate fee for these
services.
Selects hymns and service music in consultation with the Rector.
Selects music for, administers, and conducts the St. Michael's Choir at rehearsals on Thursday
evenings and Sunday mornings, extra rehearsals, and for all Masses at which the choir sings.
Auditions, hires, and administers the paid staff singers of the St. Michael's Choir.
Submits the monthly staff singer payroll to the Bookkeeper.
Ensures compliance with copyright law and licensing agreements for music, especially in the
reproduction of music in worship bulletins.
Keeps track of music budget expenditures.
Provides for the maintenance of the church instruments, including helping with the maintenance and
tuning of the organ.
Maintains the choral library.
Meets with the Rector and other committees as is needed.
Promotes collegiality within the choir by providing and hosting social events.
Minimum Qualifications
Ability to play the pipe organ at a professional standard.
Understanding of the workings of the pipe organ sufficient to communicate with organ maintenance
personnel.
Skill in choral conducting.
Knowledge of standard repertoire of sacred music.
Familiarity with the functions and culture of religious organizations is essential.
Computer and office task fluency as needed for supporting and organizing musical performance.
Physical Requirements
Able to perform tasks seated at desk and in office, as well as at organ console and piano.
Able to move freely through church buildings.
Core Competencies
Excellent musicianship. Shares music joyfully as a leader and part of a community of musicians and
worshipers.
Pastoral sensibility. Understands the pastoral import of sacred music, and cares for choir singers and
others who make music in the Church.
Discretion. Keeps confidences; understands importance of sharing information appropriately; asks for
information only as needed; does not seek to satisfy personal curiosities or make assumptions; is
widely trusted; is seen as direct and truthful.
Organizational skills. Organizes information, tasks, and documents effectively; maintains a neat and
tidy work environment.
Time management skills. Plans appropriately to complete tasks regularly and efficiently; can handle
multiple demands with calm and poise; can orchestrate multiple activities to accomplish a goal.
Problem-solving. Brings positive attitude to situations where problems require solutions; thinks critically
to work through difficulties; anticipates and adjusts for problems and roadblocks.
Interpersonal interaction. Relates well to all kinds of people inside and outside the congregation; builds
appropriate rapport; uses diplomacy and tact; is regarded as a team player.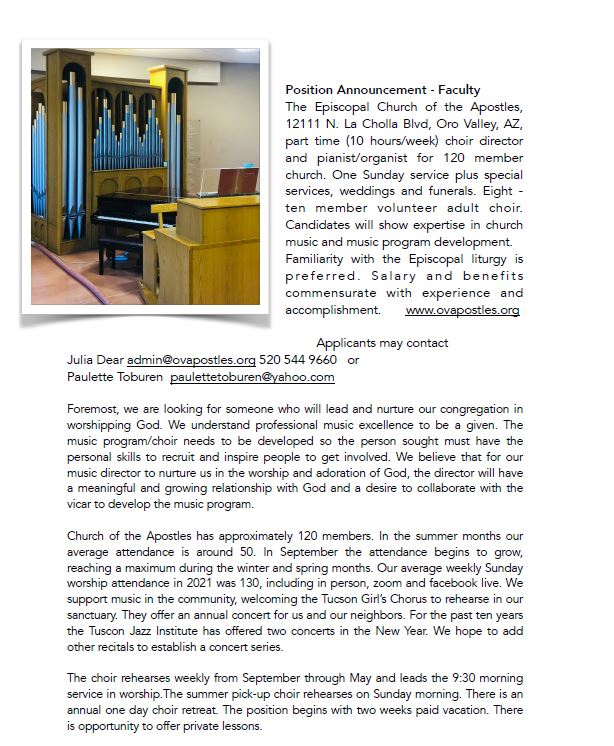 Dayspring United Methodist Church
ORGANIST (part-time, approx. 10 hours): Dayspring United Methodist Church (https://dayspring-umc.org), 1365 E. Elliot Rd., Tempe, Arizona is a progressive church, reconciling congregation, with a vibrant music program. Rodgers electronic organ with 9 sets of pipes. Two Sunday services: 9 am and 10:30 am plus occasional special services. Position starts August 15, 2022. Full job description at https://dayspring-umc.org/staff/part-time-organist/ Submit resume, letter of interest, and contact information for three professional references to sprc@dayspring-umc.org.
Abounding Grace Lutheran (ELCA)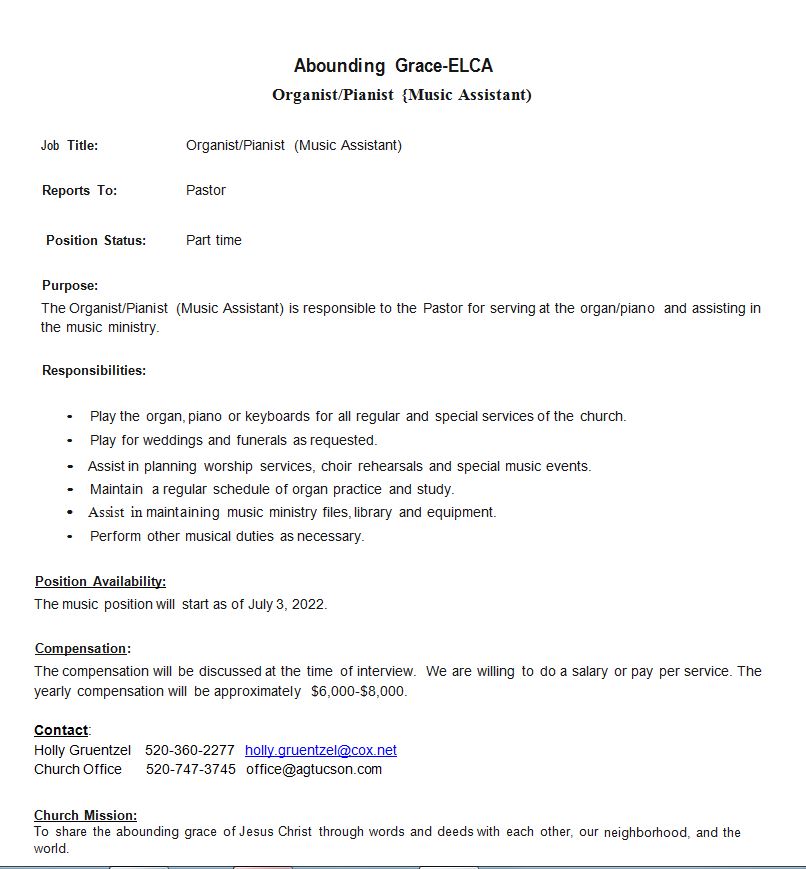 [Uupdated: 1017-2022-12:30pm]