Positions Available
Updated: May 26, 2023
Associate Director of Music and Organist
Catalina United Methodist Church
Catalina United Methodist Church in Tucson announces an opportunity for a gifted organist and collaborative pianist to inspire our congregation with music during Sunday services and to collaborate with our Director of Music during Thursday night rehearsals. Our Four Manual Quimby Pipe Organ underwent a major reconstruction in 2014 and is considered one of the finest symphonic organs in the Southwestern United States. This position offers the opportunity to play a wide range of repertoire on an excellent instrument, at a church with a 100-year history of music ministry through solo organ works, choir, and other instruments.
A job description is available here.
Please contact Pastor Mike Kerr-Osman at Mike@catalinamethodist.org for an application.
Starting date: September 18, 2023.
Posted: 0526-2023-LA
Valley Presbyterian Church
Valley Presbyterian Church is a vibrant growing church in Green Valley, Arizona with 200 to 450 present in worship (depending upon the season) and an additional 250 – 400 on Live Stream weekly! We have a brand new 2023 Rodgers Infinity Organ, a Steinway Grand Piano, and a 30-60 Voice Chancel Choir. We have recently remodeled our Chancel for acoustics and have a deep love of music.
We are looking for an Organist Accompanist for Worship. The Organist will work closely with our Pastors, in partnership with our Music Director, and our Worship Committee. The Organist would need to be available each Sunday morning, on Wednesdays during Choir Practice to accompany the Choir, for memorial services, for other special worship services, and to act as accompanist for soloists. Competitive Salary. Please contact Pastorcraig@Valleypres.net., with your resume.
Posted: 0317-2023 LA
St. Mark's United Methodist
1431 W. Magee Rd., Tucson, AZ 85704
The following two positions are available:
Church Organist/Keyboardist https://saago.org/wp5863/wp-content/uploads/2023/02/2023_Accompanist.pdf
Celebration Singers Choir Director https://saago.org/wp5863/wp-content/uploads/2023/02/2023_Celebration-Singers-Director.pdf
Please reply to person listed in the job descriptions.
The Episcopal Church of the Apostles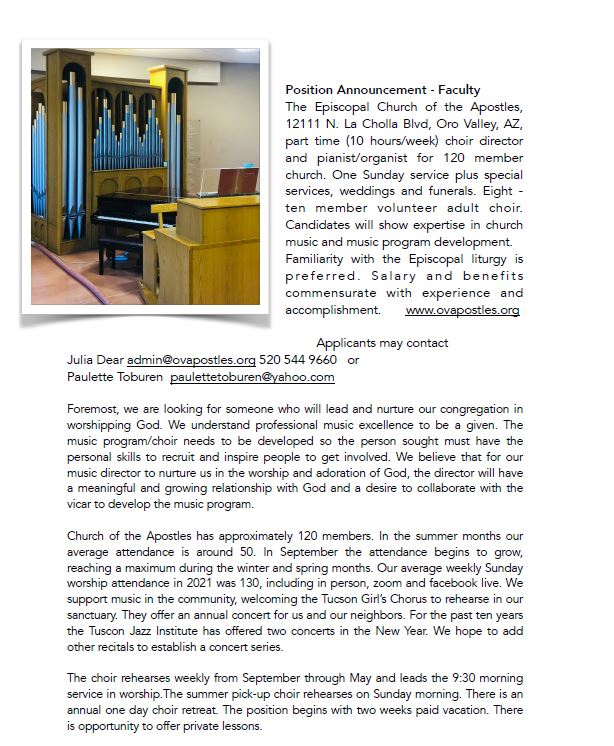 Accompanist – Vail Chorale
The Vail Chorale, part of the non-profit Vail Performing Arts Society, is seeking to hire an experienced accompanist. The Vail Chorale has been in existence for 13 years and perform in Vail and sing a variety of music from traditional choral music, jazz, musical theater selections and popular music.

This is a PAID position. Rehearsals are on Tuesdays from 7-9:00pm at Cienega High School.

The next season starts August 15, 2023. Please contact Melissa @ thevailchorale@gmail.com or call, 520-270-2289.