Events
Jan
23
Sat
Cancelled: Pedals, Pipes and Pizza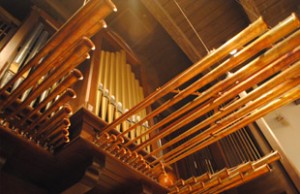 SAAGO's annual event is designed to give middle-high school and adult music students an introduction to the pipe organ and its music.
Attendees get to explore the inner workings of the instrument, and they also receive individual instruction on the organ.
Additional information and a registration form will follow in a later edition of The Cypher.
Jan
24
Sun
Coping With Covid – Organist/Clergy Interactive Discussion (ZOOM)
Jan 24 @ 3:00 pm
Southern Arizona Chapter, AGO presents
COPING WITH COVID – Zoom Meeting
Sunday, January 24, 2021, 3:00 p.m.
Musicians and Clergy Discuss the Challenges of Worship During the COVID-19 Pandemic
____________________
Participants:
Diane Green, organist, with Michael Bush, Casas Adobes Congregational Church
Rabbi Norm Roman, Beth Shalom Temple Center, Green Valley
Rebecca Williams, organist, with Father Greg Adolf, St. Andrew the Apostle Roman Catholic Church, Sierra Vista
Lynn Moser, organist, with Mack Sigmon, Trinity Presbyterian Church
Topics include:
Technology used – past recordings, off-site music, visuals livestreaming/pre-recorded music and services.
Financial implications – as related to operating expenses, particularly those of staff and musicians.
Emotional support – how emotional support has been provided for congregants and staff members.
Protocol for memorials, weddings, baptisms.
Moving forward in 2021 – changes incorporated during the pandemic to be continued in 2021 when the crisis is over.
Mark your calendars for this very interesting and informative program.
You will be able to ask questions of the participants during this program.
To join the Zoom meeting:
Join Zoom Meeting
https://us02web.zoom.us/j/84186255136?pwd=VVBXSWdjcGVsSEZ6RWp2djB2VXdnZz09
Meeting ID: 841 8625 5136
Passcode: 981766
For more information check out this flyer:  Coping With Covid
Updated:0118-2021-1212
Feb
28
Sun
Honoring Black Composers (Virtual Meeting)
Feb 28 @ 3:00 pm – 5:00 pm
The music of African-American Composers