Lutheran Church of the Risen Savior, Green Valley
The Holtkamp organ at the Lutheran Church of the Risen Savior in Green Valley was dedicated on January 10, 2016. The instrument, designated by the builder as Job 2112, has 28 stops on three manuals and pedal, with 2,012 pipes. As in many Holtkamp organs, much of the pipework is exposed in a visually striking arrangement, becoming a decorative feature in its own right. The installation required only minimal modifications to the church structure.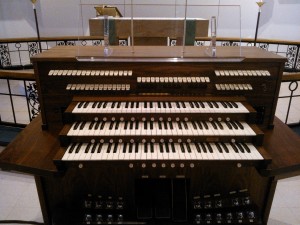 The console is placed on a movable platform and is brought into the audience's view for concerts.