St. Philip's in The Hills Episcopal Church
Built as part of the 50th anniversary expansion of the church in 1986, the large three-manual pipe organ was created by the Holtkamp Organ Company of Cleveland, Ohio. The instrument is considered one of the finest of its type in Southern Arizona. It is dedicated to Andrew Buchhauser, Organist at St. Philip's from 1947 to 1986. The mahogany case for the organ, designed to wrap around and above the main entrance of the church contains hints of Spanish Colonial architecture, and features horizontal trumpets of flamed copper over the center aisle. Recent additions to the organ include 4 pedal stops manufactured by the Walker Technical Company of Zionsville, Pennsylvania.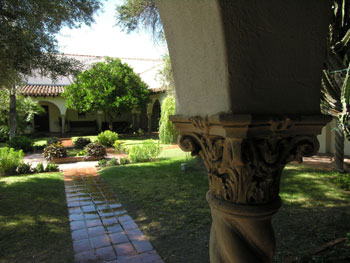 In the summer of 2005, a new Trumpet stop was added to the Swell division of the organ, and the Swell Mixture was revised by Hupalo & Repasky Pipe Organs, LLC, of San Leandro, California. The instrument is now played from a large Aeolian-Skinner console, originally installed in St. Andrew's Episcopal Cathedral in Jackson, Mississippi.